Pont du Diable intermediate Canyon
A fun and Aquatic canyon In an exceptional cramp!
A favorite of the Terréo Canyoning team. An enchanting and peaceful first part to familiarize yourself with the elements. A second part with a wide variety of technical obstacles: jumps, abseils, toboggan … A sporting passage in opposition to cross a parade. Reaches at the end of the route where you will have to swim!
Une ambiance incroyable pour ce canyon taillé dans la roche tel un coup de sabre. Le canyon du Pont du Diable se trouve au coeur du massif des Bauges tout proche de Lescheraines. L'environnement de ce parcours est rural, sauvage et préservé. Le fameux Pont du Diable surplombe le canyon du même nom et permet d'un coup d'oeil en amont et en aval de voir les principaux obstacles du parcours qui se succèdent sans interuption sur une distance de 250 mètres environ. L'encaissement de ce canyon est marqué avec des passages dont la largeur n'excède pas un mètre. une occasion rêvé de jouer avec le courant et de réaliser un magnifique passage en opposition perché au dessus de l'eau avec les pieds en rive droite et le dos collé en rive gauche. Athlètique quelque peut mais rassurez vous, vous serez bien entendu longé sur une main courante pour ce passage. Les sauts possibles, sont nombreux au Pont du Diable, parfois techniques et pouvant allerjusqu'à une hauteur de 7 mètres. Vous verrez ou confirmerez que les sauts les plus hauts impressionnants ne sont pas forcémént les sauts les plus hauts. Un superbe toboggan éjectable,  vous attend également au canyon du Pont du Diable. D'une longueur d'une dizaine de mètres, il ne vous laissera pas indiférent. Pour continuer la descente, un beau bief d'environ 75 mètres vous attend. Quel plaisir de nager dans une haut couleur émeraude entre deux falaises verticales. Pour terminer un saut possible dans une large vasque vous permettra de tenter les figures les moins académiques et de terminer l'activité en beauté.
L'approche et le retour se font par un sentier facile, comptez 10 minutes à l'aller et 15 minutes au retour.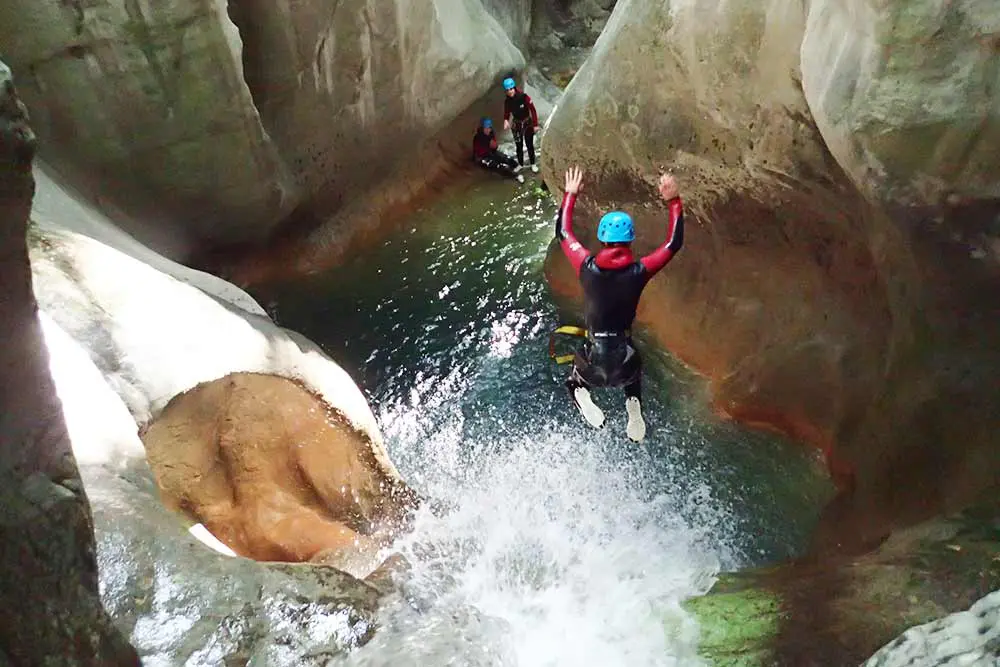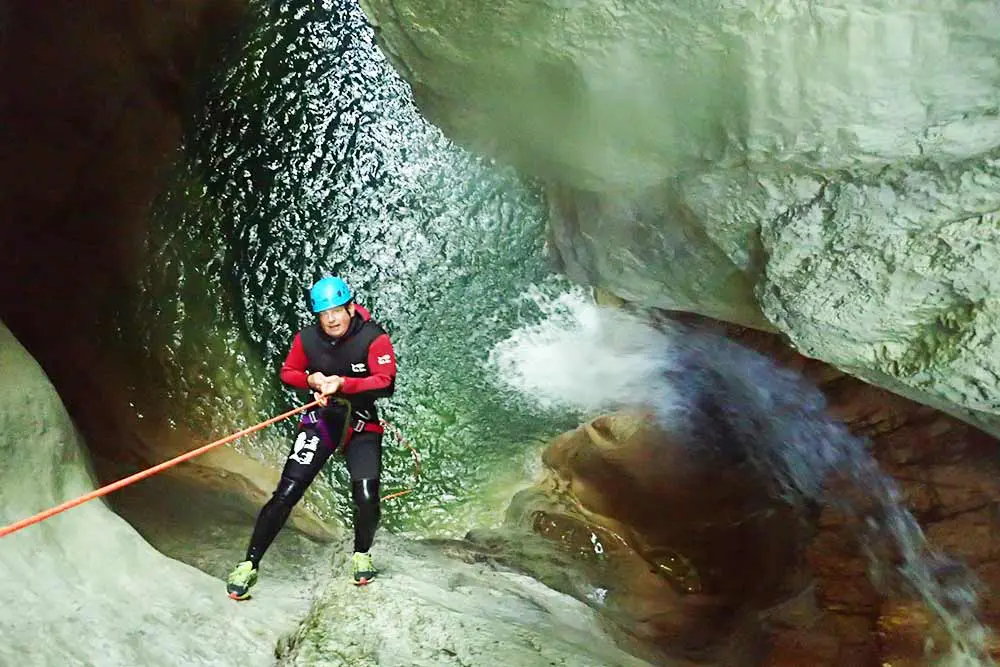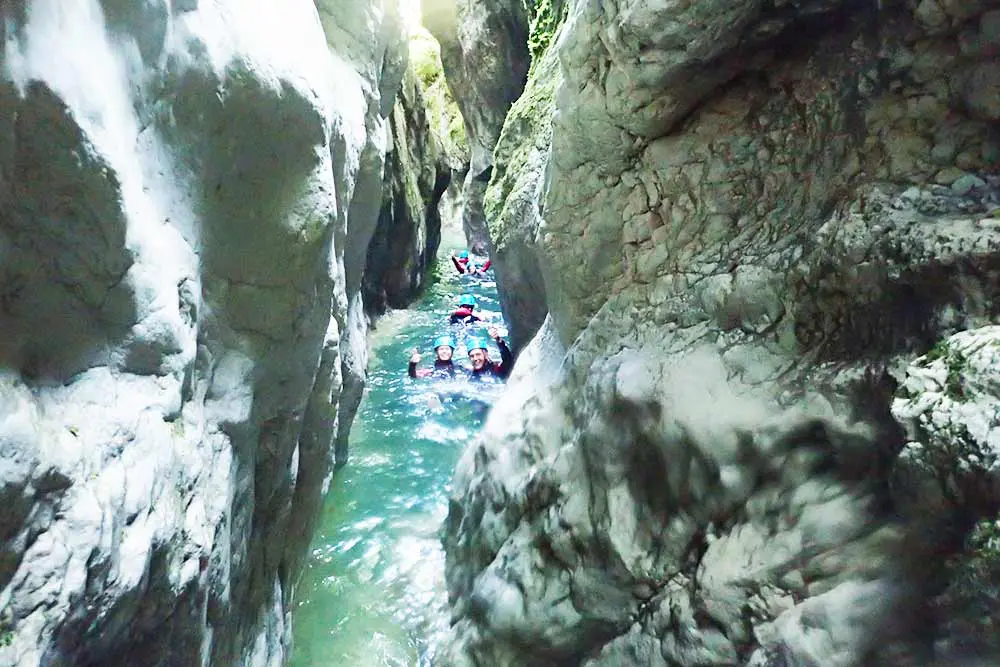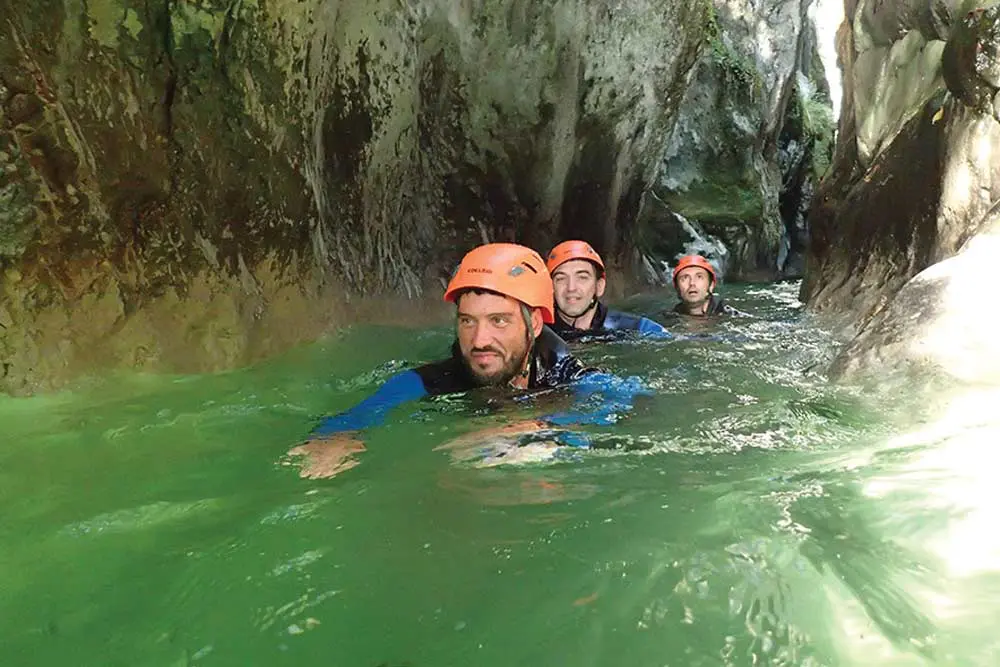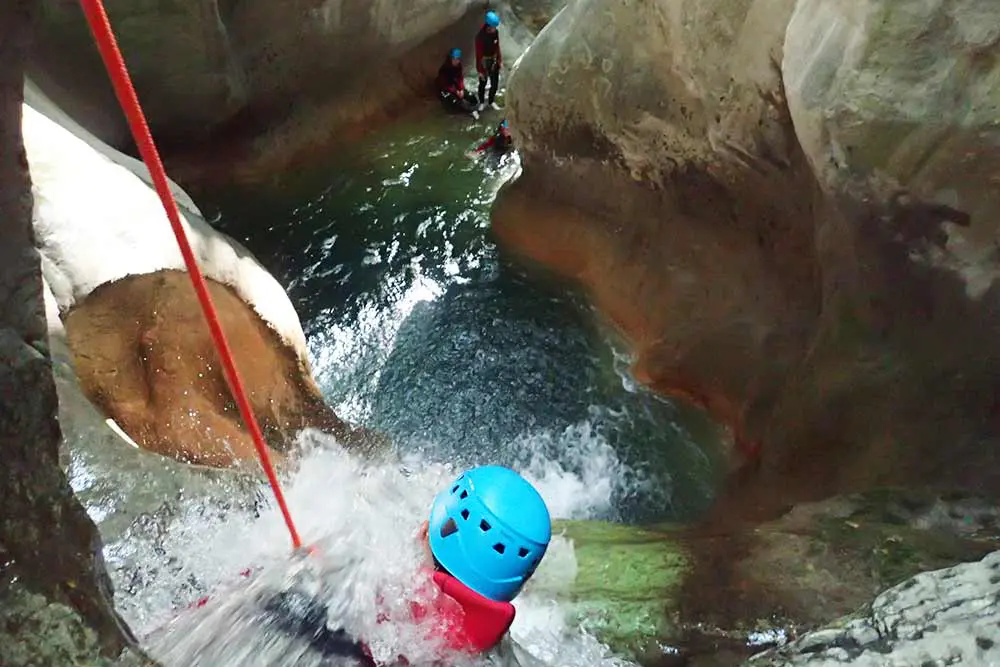 FAMILY RATE :
from 4 people : 55€
GROUPS RATE :
from 6 people : 55€
FREQUENTLY ASKED QUESTIONS
Une après-midi pleine de sensation et de bons souvenirs grâce à Arnaud !! Je recommande vivement le site et ce guide, plein de pédagogie et de douceur:)
Excellente activité: accompagnement, parcours, ambiance... Le moniteur est attentif et disponible pour le groupe en plus sa bonne humeur! A faire et refaire!
Paul est un très bon moniteur, professionnel; qui sait s'adapter aux différentes personnalités de chacun. Il a le contact facile et sait immédiatement créer une cohésion de groupe. Nous avons passés une excellente matinée. Je recommande !!
Le cadre est très beau, nous y avons passé l'après-midi entre amis et tout s'est magnifiquement bien passé grâce à notre moniteur Mathieu qui nous a fait découvrir ce parcours assez intense, je recommande fortement pour les amateurs de sensations fortes
Pont du Diable intermediate Canyon
2h30 / Sensations / Starting at 55 €